Alien, Mine – Book 1 in the Alien, Mine Series
A romantic science fiction novel of about 100K words. This book was previously published under the same name, and is now presented as the author's edition with additional scenes of approx 10K words.
Heat level: Sizzling
THE BLUTHEN HAVE ONE CONSUMING PASSION: THEMSELVES.
IN THEIR EXPANSION ACROSS THE GALAXY, THEY WILL GO TO ANY LENGTHS TO DOMINATE SPECIES THEY ENCOUNTER.
Torn from modern day Earth and stranded on the far side of the Galaxy, Sandrea Fairbairn must use every particle of courage she possesses to adjust to her new life and live for tomorrow.
Eugen Mhartak, a general in the Tri-Race Alliance Army, refuses to bow to the merciless Bluthen. Haunted by the loss of far too many innocent lives he has vowed to drive the ruthless invaders from Alliance space.
The strength and valor of Eugen Mhartak attracts Sandrea as no man ever has, but she struggles to read the enigmatic general's heart. Determined to help him triumph over the Bluthen she uncovers a diabolical plot against the Alliance.
Drawn by the courage and exotic beauty of Sandrea, Mhartak battles to overcome the barriers of cross-cultural differences that separate them and claim her ardent interest. He must conquer his deepest fears to be the man she needs. When his principles are betrayed by his own government and he is faced with the impossible prospect of taking Sandrea's life in order to save his home planet, Mhartak desperately searches for a way to keep safe both his world and the magnificent woman who has stolen his heart.
Available at these stores
Cover art by Two Horses Swift
 ***
Alien, Awakening – The Second Book in the Alien, Mine Series
This book can be read as a stand-alone story, but the reader may derive more enjoyment from it by reading the previous story, Alien, Mine.
ABDUCTED BY ALIENS
RESCUED BY ALIENS
AGGRAVATED BY ONE EXCEEDINGLY ATTRACTIVE ALIEN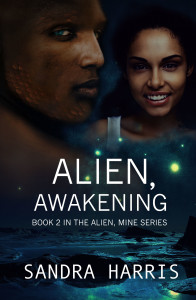 Stranded on the far side of the Galaxy, psychologist Kathryn Holden, has done her best to help her fellow abductees (both human and non-human) adjust to their new life in an alien civilisation. Setting out to explore her new home and search for that last elusive fragment of her own peace of mind, she discovers a perfectly preserved, underground city with no evidence of a population . . . and an Artificially Sentient Intelligence bent on protecting her from anything or anyone.
T'Hargen Mhartak, sector head for covert operations for the Angrigan, Magran & Legolopanth Alliance, once deluded himself that the human woman, Kathryn Holden, held the key to lighting the darkness shrouding his soul. A momentary lapse in judgement. However instinct demands she is fundamental to the future of the Alliance — the only thing he lives for, the only thing standing between his peaceful society and the callous Bluthen race.
When he and Kathryn are catapulted deep into enemy territory T'Hargen is forced to question his deep-seated convictions in order to secure a strong ally for the Alliance, and also, possibly, capture that fragile dream he'd abandoned long ago of awakening to a bright, new future.
Available from Amazon.
Cover art by Two Horses Swift
***
Love, Encoded 

–
The First Book in the
Selected Evolution
Series.
As of October, 2020 the rights to this book have reverted to me. It is currently unavailable as I intend to make some edits, once that is complete I shall upload it for sale.
A Science Fiction Romance
Heat Level – Sizzling
Earth: Near Future
Experience has taught Sarah Rasmussen that hot guys don't go for geeks like her. Their retreat speed is usually proportional to the value of her IQ. However, for every rule it seems there is an exception—or in her lucky case, two.
When confronted with the disturbing fact she has been genetically manipulated in order to save an alien race stranded on Earth for a thousand years, she needs the strength of the men's devotion to deal with the life-changing news. But when she learns that the love of the two men she has come to care for deeply is not quite as it appears, it could shatter her heart forever.
Nick Bannister and Adam McKeoun will never stop fighting to convince Sarah she is their world, no matter what the source of their emotion. They will let nothing stand in their way of forging a happiness that will transcend any challenge, especially not a calculating and determined enemy bent on Sarah's destruction.